Who We Are
Marcia Calmon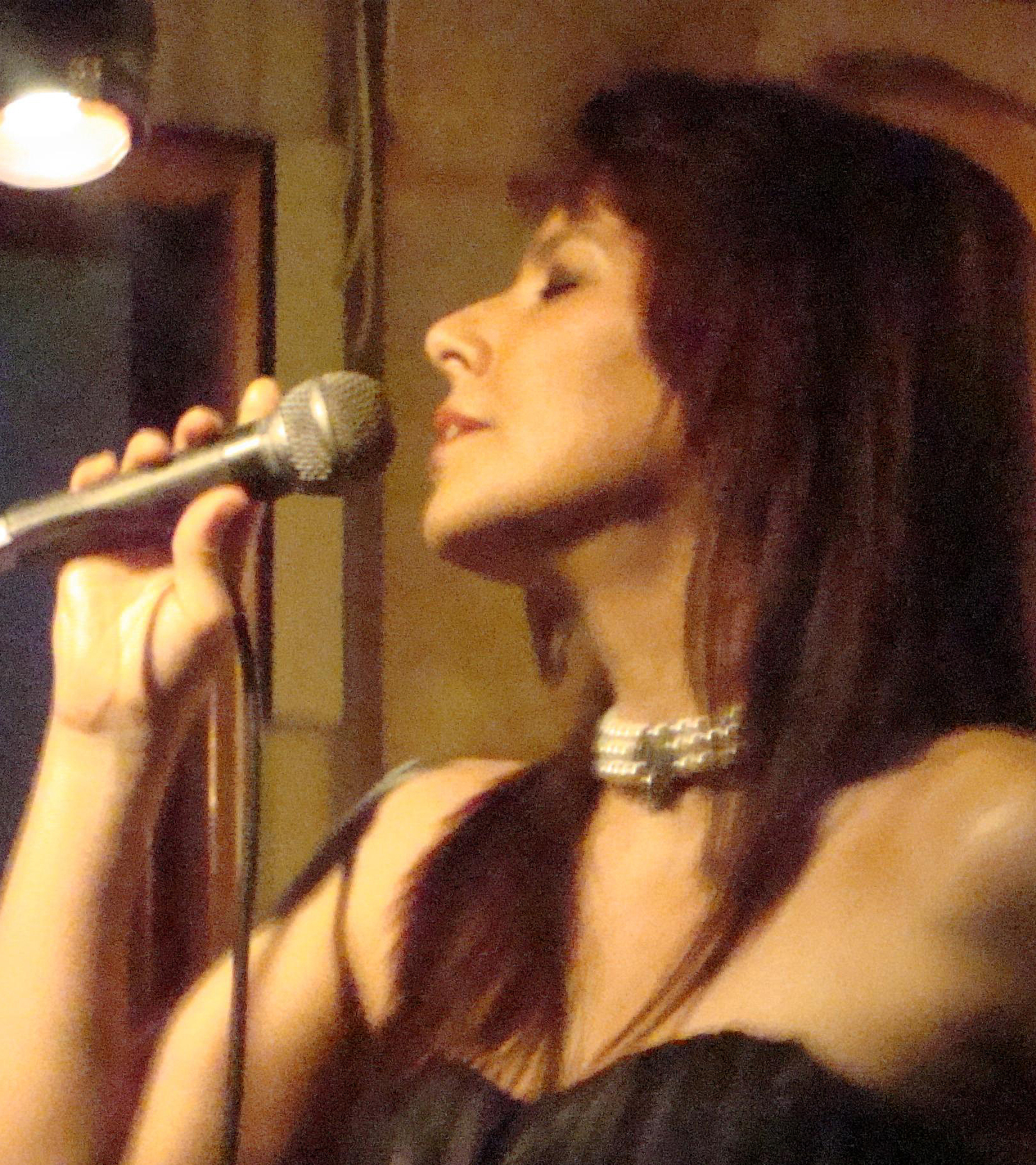 Photo: Rose Moraes
Marcia Calmon was born in a family of musicians at Rio de Janeiro, Brazil. Her father, Waldir Calmon, was a piano player in the 50's and 60's of a very high projection and had an orchestra in Brazil and her mother, Marta Kelly, is a singer. She also plays a little of piano and acoustic guitar and had lyric and popular singing classes (click here to listen to a medley with three songs from The Sound of Music) in France and Brazil. He began to sing in orchestras: first, in Waldir Calmon and later in Maestro Cipó, Vittor Santos and others. She worked for ten years with the famous brazilian singer Marlene, recorded for TV and does back-vocals on recordings and shows. Her major influences are

Carmen Miranda
,
Marlene
,
Ademilde Fonseca
,
Leny Andrade
,
Sade
.
Ella Fitzgerald
e
Barbra Streisand
.
She lived for about five years at the

Caribbean islands

. At Puerto Rico (USA), she was part of the great Brazilian show of the Plataforma Hall in San Juan de Puerto Rico. At Saint Martin and Saint Barths, along with her husband, conductor and multi-instrumentalist Tranka Oliveira, she performed for tourists from all over the world, singing in five languages. The duo worked in sophisticated hotels such as Port de Plaisance, Le Flamboyant, Privilége, Beach Plaza and Meridien and, in June 1997, participated of Fête de la Musique in the Saint Martin's marina, playing for thousands of people. In May 2004, she was part of the group that represented Brazil at the IV Beijing Art Festival, China.
She recorded MPB classics, like Samba do Aviao (Tom Jobim) and Mas Que Nada (Jorge Benjor) in the CD Tranka & Marcia - Sob Medida (with maestro Tranka Oliveira). She also recorded five new songs (four as co-author) that are on sale only on the digital platform: (Canção) Pro Nosso Tom (Tranka Oliveira), Feita para Dançar (Marcia Calmon - Tranka Oliveira), Copacabana Blues (Marcia Calmon - Tranka Oliveira), Sentidos (Marcia Calmon - Tranka Oliveira) and O Sol (Tranka Oliveira). Feita para Dançar is an homage to Marcia's father, the famous pianist Waldir Calmon

In her solo career, Marcia performed at famous nightclubs such as Beco das Garrafas (Copacabana, RJ), Cariocando (Catete), Centro da Música Carioca Artur da Távola (Tijuca, RJ), Rio Scenarium (Lapa, RJ), Vinícius Bar (Ipanema, RJ) and Panorama Hall (Leblon, RJ).

You can listen to three interviews, in portuguese, with Marcia: two about Waldir Calmon, including trivia and stories of her father, and the second one about her career and her show Marcia calmon Canta o Rio Antigo - both with a lot of music! You can also see her singing some chorinhos on YouTube videos, with Tranka at the acoustic guitar, by clicking here. Marcia Calmon and Tranka Oliveira also provide live music and shows for many kinds of events and they book artists for bossa-nova, chorinho, traditional samba and brazilian carnaval (including dancers, capoeiras, percussionists and beautiful carnaval costumes). We can provide you with any size ensemble.

Tranka Oliveira
Photo: Marcia Calmon
Tancredo "Tranka" Oliveira was born in Valença, Rio de Janeiro (Brazil) and he has played in the best nightclubs of Rome, New York and Rio de Janeiro, as

Flag

, 706 and Number One (

click here

to listen to Tranka playing with the north-american singer Spanky Wilson at Number One nightclub). In 1976, went on world tour with the american singer Harry Belafonte (click here to see photos) and played with Bob Friedman when he lived at the USA. At Brasil, he played with great artists, like Gonzaguinha, Marlene (click here to listen to two tracks from the historic Marlene's show Te Pego Pela Palavra, 1974, with Tranka playing electric bass), Emílio Santiago,

Luizinho Eça

,

Chiquinho do Acordeon

, Luís Carlos Vinhas, Erlon Chaves and Peter Thomas (click here to listen to some recordings). Since 1979, Tranka has been organizing shows for the largest folkloric show house in Latin America, called Plataforma (click here to listen to some tracks of the last Plataforma show and here to see some photos) and directed many brazilian shows in Europe and United States. When he lived in Italy and France, he was a music professor and plays keyboard, guitar, bass (eletric and acoustic), saxophone and flute besides working like a music director and arranger on recordings, such as on the Werther album. Tranka Oliveira also composes jingles (click here to listen to some) for radio and television and has worked as arranger maestro for Globo TV in the 90's. His songs have been recorded by artists such as: Maria Betânia, Alcione, Beth Carvalho, Grupo Raça, Negritude Júnior e Neguinho da Beija-Flor:
1 - Celular (Tranka - Toninho Nascimento - Noca da Portela) com Wander Pires

2 - Ilumina (Tranka - Toninho Nascimento - Noca da Portela) com Maria Bethânia

3 - Pagando Pra Ver (Tranka - Toninho Nascimento - Noca da Portela) com Alcione

4 - Perdas e Danos (Tranka - Toninho Nascimento - Noca da Portela) com Beth Carvalho

5 - Tamandaré (Tranka - Toninho Nascimento - Noca da Portela) com o grupo Raça

6 - Amor Pela Metade (Tranka - Toninho Nascimento - Noca da Portela) com Negritude Júnior

7 - Cena de Ciúme (Tranka - Toninho Nascimento - Noca da Portela)  com Neguinho da Beija-Flor

In the early 90's, Tranka played piano, keyboard and acoustic guitar in sophisticated Caribbean hotels for about five years with his wife and singer Marcia Calmon. In Brazil, they both set up orchestras for major events, such as New Year's Eve and Carnival. At the end of 1999, they formed a big orchestra for the Reveillón do Milênio (Millennium New Year's Eve) at the Copacabana Beach (event organized by Globo TV and directed by Roberto Talma). The orchestra accompanied the singers Marlene, Emilinha Borba and Virginia Lane before the traditional fireworks. After midnight, the Maestro Tranka Orchestra returned to the stage to cheer up the great public that remained on the sands of the famous Copacabana Beach, RJ. In the carnival of 2004, the same orchestra animated the official city carnival ball Baile do Havaí, along with the school of samba Beija-Flor, at Morro da Urca.